Kris and Jolene Nosack Family
---
News
2003 January – 360 degree panoramic view from the roof of our house (requires QuickTime VR player like QuickTime 5 or above)
2002 December – New baby! Kade Kieth Nosack
2002 March - Our Olympic experiences
2001 July - Kris is into Canyoneering
2000 December - M e r r y C h r i s t m a s ! See our Christmas 2000 photo card
---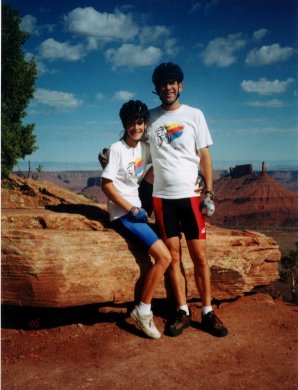 Kris Nosack was born in California but has lived in Utah since he was six years old. As a child Kris lived in Midvale, American Fork, Lehi and Spanish Fork. Kris graduated from Spanish Fork High School and then studied Electronics at Utah Technical College (now Utah Valley State College) for one year before serving a 2 year mission for the Church of Jesus Christ of Latter Day Saints in Chicago, Illinois. Upon returning from his mission, Kris attended Utah Valley Community College where he took general education classes and served on the student council for two years (Technology Senator then Academic Vice President). After UVCC, Kris studied Manufacturing Engineering Technology at Brigham Young University. Along with his studies, Kris worked part-time doing drafting at a composites company and as a researcher at BYU. At the time Kris graduated with his Bachelors degree the job market was poor so Kris continued his education by studying Computer Integrated Manufacturing at BYU, worked with a start-up company and did several research projects. Tired of school and wanting to get on with life, Kris took a job as a mechanical designer at Larson Davis in Provo where he is currently employed. Kris enjoys mountain biking, wakeboarding/waterskiing, skiing (cross country and downhill), volleyball (sand and indoor) and all things scientific, technical and computer related.
Jolene Hood was born and raised in Provo. Her parents, Thomas and Ethel Hood, have roots in Star Valley Wyoming, but have lived most of their lives in Provo. Jolene has five older sisters and three younger brothers. After graduating from Provo High Scool, Jolene studied to become and X-ray Technologist at UVCC and Utah Valley Medical Center. After finishing her studies and grueling internship, she went to work for Dr. Wayne Mortinsen, an orthopeadic surgeon, taking X-rays. After marriage, Jolene worked to support her student husband until he started his first full-time job at Larson Davis. Jolene is now a full-time Mom. Jolene enjoys mountain biking, skiing (cross country and downhill), volleyball and her children.
Kris and Jolene met at a student ward at UVCC. They knew each other for quite a while until either Kris finally got up the nerve to ask Jolene out or Jolene finally had a break in her dating stream for Kris to be able to ask her out - the story depends on who's telling the story. The romance progressed at a steady pace until they knew they were in love. After a year of dating they were married in the Provo Temple. Kris and Jolene honeymooned in Jackson Hole and went to Hawaii (Oahu) the next year as a sort of real honeymoon. After being married for about two years, Jolene gave birth to Jamie. Three years later came Rachel then Kara after another four and a half years. Their three girls are the center of their lives and they love them very much.
| | |
| --- | --- |
| | Jamie is a wonderful big sister. She loves school and does well in all her subjects. |
| | Rachel is an imaginative and fun-loving girl. |
| | Kara is the baby. She's always busy and mostly happy and fun to love. |
| (no photo) | Kade Kieth is the new baby boy. |
---